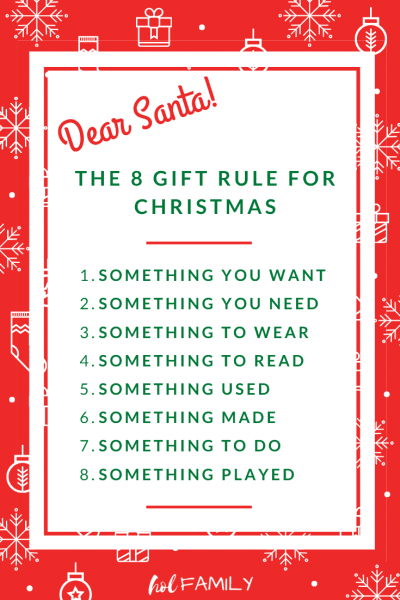 I grew up in a home where Christmas was a big deal, especially when it came to gifts. My parent's weren't rich by any means, but they did carefully plan and save every year in order to make Christmas extra special for my sister and I. 
I have to admit, although I am very excited about embracing a more minimalist approach to Christmas giving this year…it is something that is slightly foreign to me. 
When I became a Mom, I wanted to be able to make Christmas special for my kids too. At first, I thought this meant we needed to have tons of presents under the tree.
In order to stay within our budget, this inevitably meant a lot of the presents were low-quality, cheap toys that were plastic and not made to last. It also meant I was buying presents for the sake of having more "things" under the tree as opposed to having items I really wanted in my home long-term.
What I noticed after repeating this type of Christmas scenario for a couple of years was that the more items my kids received at Christmas, the less they actually played with them. For the first few days, they would go from toy to toy, playing with each for less than ten minutes before looking for the next item. 
Unlike at birthdays or other times of the year when they might only receive one high quality toy that they really wanted and would play with for hours on end, the multiple toys received at Christmas only seemed to overwhelm my kids and create stress (in them and in me). 
What's more, looking back I realize that most of these toys end up broken or donated within a few months. If we added up all of the money seemingly wasted on unwanted and unnecessary Christmas gifts over the last 5 years, we could probably take our entire family on a tropical vacation or purchase something useful like one of those Costco size play structures!
This year, we decided we wanted to be more intentional with our gift giving. While we are working on removing clutter from our lives and home and embracing simplicity, we are not yet fully minimalists (although I would love to one day get there).
Similarly, when it came to planning our gift giving, I didn't quite feel ready to scale all the way back to the four gift rule (something they want, something they need, something to wear, something to read). Instead, I decided to come up with my own spin on this minimalist gift giving guide and came up with an eight gift plan. 
For this year, we will follow this eight gift plan for each of our kids (David and I have been doing just stockings for each other for years), and continue with our tradition of one gift of new pyjamas for Christmas eve. We also will be doing stockings for our kids, filled with high quality items (not junk). 
The Eight Gift Rule for Christmas
Something they want is probably the easiest category to buy for since most children have a long list of items they've been eyeing since last year's Christmas. The hardest part here is narrowing it down to just one single item.
If you find yourself struggling with which item to buy, ask yourself these questions:
Is this something your child has been wanting for a long time? 
Is this something you think they will play with after the "newness" has worn off? 
Is this something you want your child playing with? 
Does this require batteries (i.e. is it going to constantly require you to change the batteries or is it a super annoying toy that will drive you insane)?
 Is this eco-friendly and made from non-toxic materials?
 Is this going to foster my child's imagination, incorporate problem solving, or promote creativity?
Here are some ideas for toys that meet the criteria of promoting imaginative play, problem solving, creativity, and are great for kids of multiple ages.
Something they need is definitely a category that leaves a lot of room for flexibility. Obviously if you allow your children to interpret what they need, it may look a little different than what you had in mind.
We plan to use this as an opportunity to promote creativity and/or physical play. Art supplies, sports equipment, a new bike, or a trampoline are all excellent examples depending on your family needs and budget.
Some obvious choices for something to wear might be new shoes for school, a favourite sports jersey, a ball cap, or a new tutu. If you find yourself saying "my kids have too much in the way clothes as it is," here are some options for "wearable" gifts that won't add more clutter to your closets.
There are so many health benefits of reading, and reading to or with your children promotes bonding, encourages early literacy, teaches important lessons, and so much more.
Older children and teens who spend time reading to themselves benefit from less anxiety, improved concentration, less screen time, increased learning and comprehension, and better sleep. 
I grew up reading a lot of the classics, and love to read some of these forever favourites with my own children. Classic literature is timeless and teaches children so much about language and history.
Other great options for the something to read category are kid-friendly Bibles (on our wishlist this year), magazine subscriptions, crossword puzzle books, "how to" type books (lego creations, crochet, kids cookbooks), photo books, or personalized books. 
One thing that I am trying to teach my children is that things do not have to be new to have value. I love the thrill of hunting through a thrift store, looking for some treasure to bring home.
I often sell and buy clothing, toys, furniture, or other household items at local consignment stores, on Facebook marketplace, or kijiji. Not only is this better for the environment and for teaching my children how to avoid consumerism, but it is much better for my budget too!
Your something used item may be a toy that your child has been wanting that you find in a children's consignment store or on Facebook, or perhaps you have a toy exchange party with a group of other parents. Ebay can be another great place to look for a gently used version of a wishlist item.
Another great idea would be to pass down a cherished keepsake, family heirloom, or piece of jewelry. Old clothing, hats, or shoes could make wonderful additions to a dress-up trunk. 
My husband, David, went through his childhood keepsakes bin and found a few of his favourite toys from when he was a child. These made wonderful gifts for our kids and it brought him so much joy to see his own children making new memories with his old toys. 
I have to admit, I am not a super crafty person. I love the idea of crafts and pin all sorts of fun looking ideas on Pinterest, but when it comes to visual arts…I am not very creative. 
Luckily, something made doesn't have to be a craft, nor does it have to be hard or intimidating. If you ARE crafty or have some special skill or talent like whittling wood into a homemade toy or sewing doll clothing, then this category should be fun and easy for you. 
If you aren't crafty, I've come up with some ideas that don't require glitter, scrapbooking paper, or a hot glue gun.
For the family who has too much stuff, something to do can be a meaningful and cherished gift that doesn't take up space, require batteries, or end up in next year's garage sale. Memories last a lifetime!
With three children, we've really come to appreciate any individual time we get to spend with our kids (as do they). Alone time with Mommy or Daddy is very important and we've even started a tradition of "dating" our kids.
This is a category that could be very inexpensive and simple (a date to go ice skating and get hot chocolate with just Mommy or Daddy) or extravagant and elaborate (tickets to an NHL game, broadway show, or favourite singer).
Here are some ideas I've come up with to get your creative juices flowing:
Sports tickets to take in a live game
Theatre tickets to a live show
Movie theatre passes
Admission tickets to a local water or theme park
Season passes to an indoor play place
A gift card and date at a favourite restaurant
Lessons they've been wanting (instrument, dance, martial arts, etc.)
Tickets to see a band or musician
Ballet or Cirque de Soleil tickets 
Tickets to a magic show
Tokens to play arcade games
A family sleigh ride
One of our favourite family activities is to play a game together. David and I love playing board games, and this was something we really wanted to foster in our children too.
When they were very little, we began with games like matching and Guess Who? UNO soon became one of our popular choices and taught important lessons like turn-taking, colours, adding, and self-control (after all, only one person can win).
We made it a tradition to buy a new game every year at Christmas, and play it together after all the presents have been opened and explored. Typically, we spend a great portion of the day playing one game after the other. This time spent bonding as a family is so precious to us and is a tradition we plan to carry on.
Here are some great games that can cater to various ages:
We are so excited to have a stress-free (and clutter-free) Christmas this year by following this eight gift rule! Now to come up with some useful, "non-junk" stocking stuffer ideas!
Will you be following a four or eight gift rule this year? Are any of these items on your list to buy? We love hearing from you…leave us a comment below and let us know!