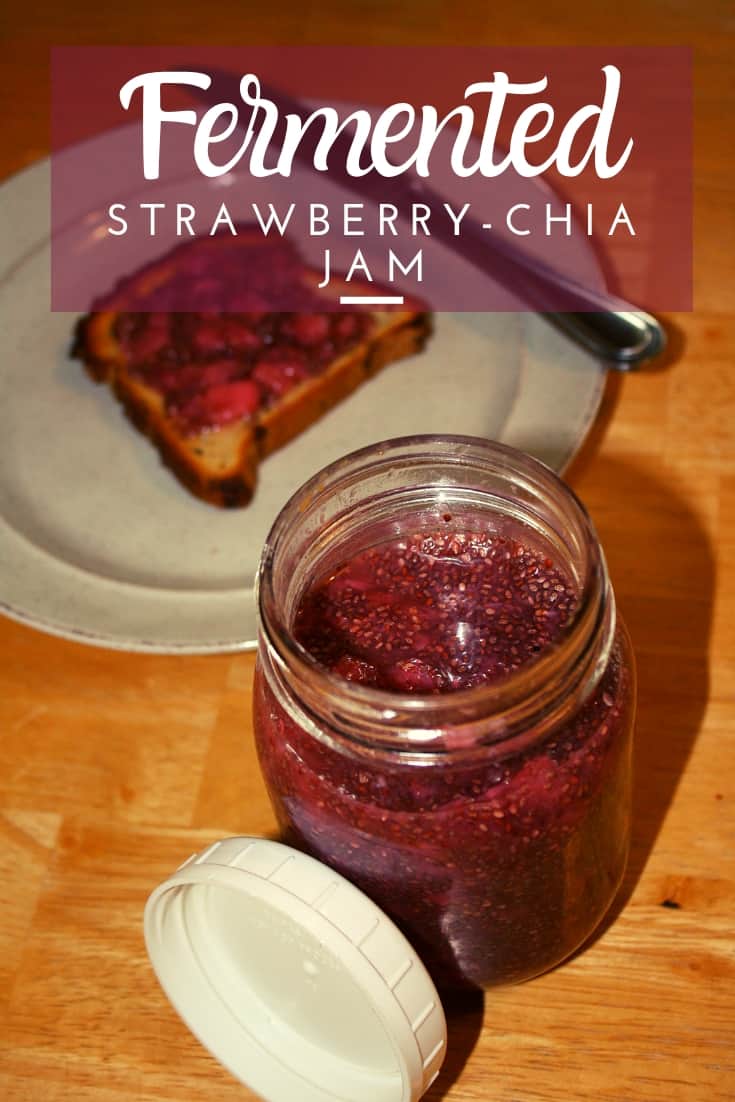 There is nothing better than homemade jam. The freshness and flavors are just unlike anything else you can find on a store shelf.
I never really got in to making large batches of preserves to keep for months on end. I prefer the easy, quick method that allows us to dig right in and enjoy the jam right away.
A couple of years ago, I stumbled across a recipe for chia seed jam. It required no pectin or other preserving additives. The chia seeds simply gelled and created the thick texture of jam naturally.
Being a huge chia seed fan, I immediately fell in love with how simple this DIY homemade jam method was.
Fast forward a couple of years, and I wondered how I could combine my love of fermented foods with my chia seed jam.
I've fermented fruit before using kombucha, water kefir, or vegetable fermentation starter to add probiotic culture. Why not take it a step further and add chia seeds to create a delicious, probiotic jam?
I started with some organic strawberries, honey, chia seeds, and my probiotic culture. I mixed the honey, culture, chia seeds, and chopped strawberries together in a jar, and let it sit out for 2 days on the counter, burping as necessary.
When it was finished, we put it in the fridge overnight. In the morning, my jam had thickened and was ready to try! Luckily, I had also made a yummy gluten and grain free sourdough bread the day before. We toasted up a few slices and spread on the jam…the results? Delicious!!!
Fermented Strawberry-Chia Jam Ingredients:
2 cups of organic strawberries (organic is important for fermenting and strawberries are on the EWG list of the dirty dozen)
2 tbsp of sugar (or honey)
2 tbsp of chia seeds
2 tsp of sea salt
4 tbsp of culture: kombucha, water kefir, whey, or vegetable culture starter
Fermented Strawberry-Chia Jam Recipe:
Hull the strawberries and place them in a non-reactive bowl (stainless steel, china, or glass). Sprinkle over the sugar and salt. Leave in the fridge overnight.
Place strawberry mixture in a heavy-bottomed pan and heat gently until all the sugar has dissolved. Turn up the heat and boil vigorously for 5 minutes.
Remove from heat and allow to cool for 5 minutes.
Once the mixture has cooled, add in the culture and chia seeds.
Transfer to very clean jam jars and seal tightly.
Allow to ferment at room temperature for about 2 days, checking regularly for desired level of fermentation. Be sure to "burp" jars by unscrewing the lid to prevent excessive gas formation.
Once the jam is ready, store in the fridge for up to 2 months.
Enjoy!