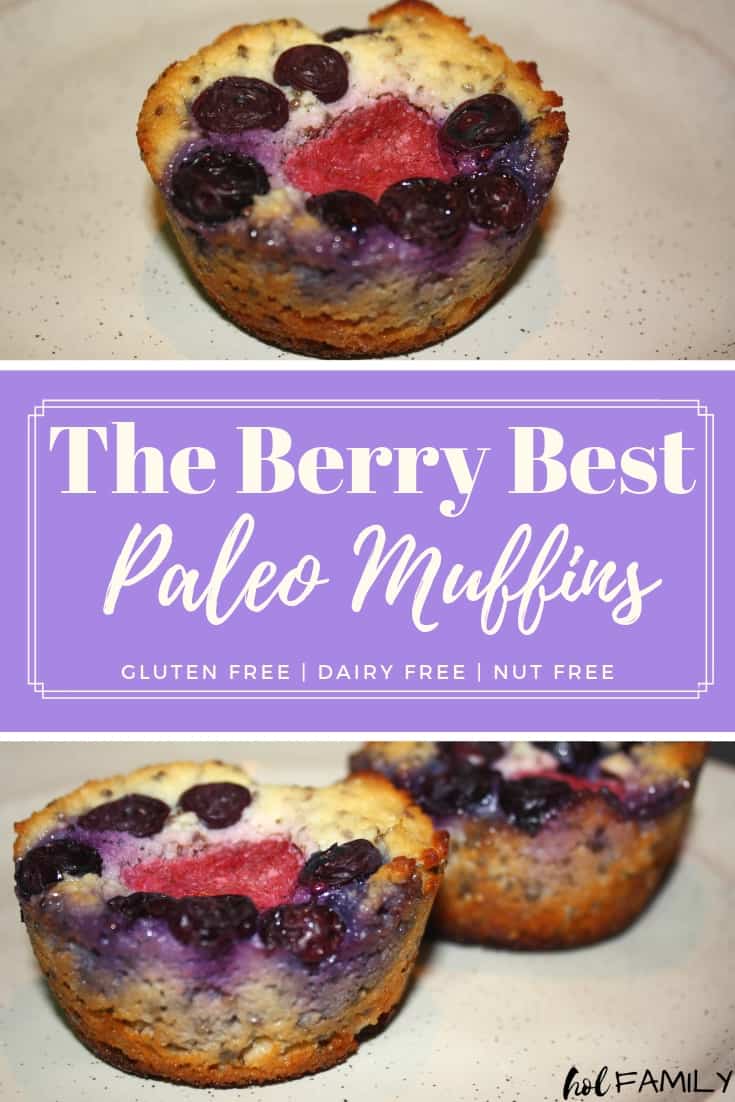 Oh breakfast! I've talked a lot before about how breakfast really is my favorite meal of the day! Bacon, eggs, scones, parfaits, pancakes, sausages, ripe fruit…and coffee!!! What's not to love?
Many families transitioning to a grain-free lifestyle find breakfast to be one of the hardest meals to change. Cereal has become such a staple breakfast in most households, and it's easy to see why. It's quick, affordable, and comes in literally hundreds of varieties.
The problem with cereal is that most options are highly processed, high in sugar, come from genetically modified/pesticide laden refined grains, contain harmful chemicals that can affect behavior, and offer little in the way of nutritional value.
Even "healthy" cereal options focus on grains and dairy for breakfast. If you're following a paleo or similar diet, then these two food groups are entirely out of the picture.
In our home, cereal isn't never a breakfast choice. In fact, our kids have never eaten cereal for breakfast in their entire lives. They have munched on some high quality brands of dry cereal as a healthy snack from time to time, but never with milk and only as an occasional treat.
Instead, our breakfasts are all home-made and come from high quality, real food. Breakfast is the first meal of the day, and we want to focus on nutritious choices that will fuel our bodies and brains…not send us crashing down in a couple of hours after a major sugar spike.
Healthy and homemade breakfast options don't have to take a long time. We can easily hard boil some organic, free range eggs while we make school lunches, blend smoothies in under five minutes, or bake these homemade muffins during dinner prep the night before for an easy grab and go paleo breakfast option.
These are my favorite make-ahead breakfast choice because they are so simple to whip up and are done in under 30 minutes. I usually make two batches at a time and freeze them for mornings I know we won't have a lot of time for making breakfast.
The ingredients in these muffins are ideal for those following a low-carb diet, gluten-fee, grain-free, dairy free, nut-free, and paleo-friendly.
Coconut flour is a healthy alternative to other grain free flours because it is safe for those with nut allergies, low in carbs, low glycemic, gut-friendly, high fibre, and loaded with nutritional value. Plus, it is very affordable and readily available.
Chia seeds are another nutritional powerhouse found in this recipe. These tiny seeds pack a huge punch when it comes to nutrition. Chia seeds are an excellent source of antioxidants, high in fibre, a source of protein, and contain healthy omega-3 fatty acids.
We love to load up these muffins with as many fresh berries as possible. Our favorite combination is blueberry and raspberry, but any fresh or dried fruits would also work well in this recipe.
We like to use raw honey to sweeten these muffins because of the many health benefits of raw honey. If you prefer, you can substitute honey with coconut sugar, maple syrup, or any other sweetener such as stevia for a keto-friendly option.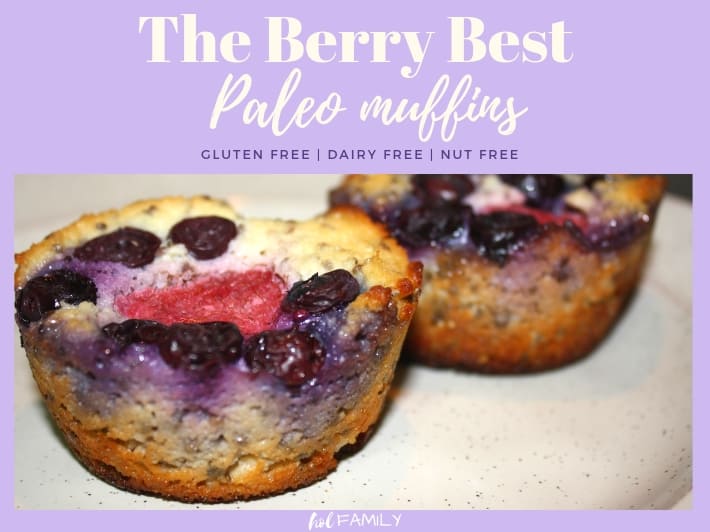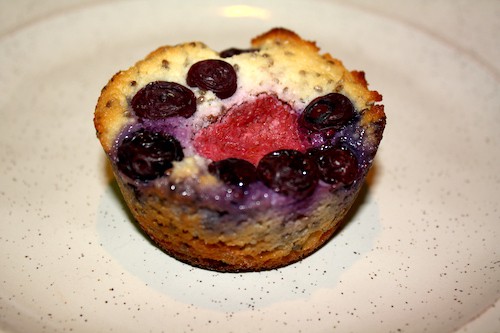 The Berry Best Paleo Muffins
These healthy berry muffins are gluten free, grain free, dairy free, nut-free, and naturally sweetened with honey. Made with healthy ingredients like chia seeds and coconut flour. They are kid-friendly and make the perfect breakfast or snack.
Ingredients
1/2

cup

coconut flour

2

tbsp

chia seeds

1/4

tsp

baking soda

1/4

tsp

fine grain sea salt

1/2

tsp

vanilla extract

2

tbsp

lemon juice

1

tbsp

apple cider vinegar

1/2

cup

non-dairy milk

1/2

cup

raw honey

4

tbsp

coconut oil, melted

1

cup

fresh berries

4

eggs
Instructions
Pre-heat oven to 350 degrees F and place rack in middle of oven.

Line a muffin tin with parchment or paper muffins liners.

In a large bowl, combine coconut flour, chia seeds, baking soda, and salt.

In another bowl, whisk together eggs, vanilla extract, milk, honey, coconut oil, lemon juice, and apple cider vinegar.

Pour wet ingredients into dry and mix well until there are no clumps of coconut flour left.

Pour batter into lined muffin tins, dividing equally.

Add fresh berries to each muffin.

Bake for 20-25 minutes or until golden and a toothpick comes out clean.

Carefully remove from muffin tin and allow to cool on a wire rack.

Enjoy fresh, refrigerate for up to three days, or freeze for up to three months.
Recipe Notes
Feel free to substitute honey for coconut sugar, maple syrup, or a sweetener such as stevia.
Fresh berries can be substituted for any other fresh or dried fruit (if using dried, reduce to 1/2 cup).
Did you make these muffins and love them as much as we do? Leave a comment below and let us know!